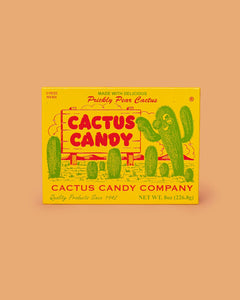 Enjoy the unique flavor of prickly pear (Opuntia ficus-indica) cactus fruit! These soft, sugar-coated jelly candies in a classic vintage box are bursting with the sweet taste of summer. Good one at a time for the occasional treat, or enjoyed by the box-full with your cactus loving friends.

Size
1/2 lb
Piece quantity
12 squares in the box
Made from
Prickly Pear Cacti grown entirely in Arizona.
Tula's Tip
Enjoy with a cactus, or cactus loving friends.
Delivery Method
Nationwide shipping, NYC delivery and pickup available.