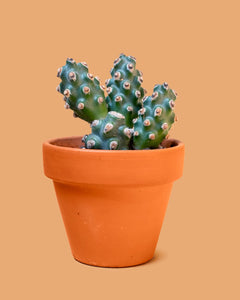 Tephrocactus molinensis is a small, segmented cactus that grows into mounds of tiny stems or joints. In its native habitat of Argentina, it typically stays close to the ground because its segments easily fall off. This gives the plant a chance to propagate elsewhere. Spineless and alien, this cactus is a hardy high desert resident that benefits from a cold, dry winter.
Please note: Every plant will vary in size, color and shape from the one pictured. Plant ships bare root. Soil included according to plant size.
Origin
Native to Western Argentina.
Sun
These cacti prefer lots of sun, at least 5 to 8 hours of direct sun daily. Indoors a south facing window is ideal. Outdoors place them where they will receive plenty of sun exposure, but protect them from intense, peak afternoon sun.
Water
In the summer months, water only when the soil has dried out completely. Always err on the side of underwatering. They are built to withstand drought, and overwatering is one of the quickest ways to kill them. Water less in the winter months.

Tula's Tip
Since seeds are extremely difficult to germinate, cuttings are an easier way to propagate. Cutting can be taken at the base of the segment of a plant. Let callus a couple of weeks and plant in dry soil and keep dry till rooted. Since these plants are slow growers and you can graft the cutting to speed up the growth rate.
Size
Approx. 3" tall and 2-3" at the widest point. Every plant will vary in size, color and shape.
Delivery Method
Nationwide shipping, NYC delivery and pickup available. Delivered Bare root