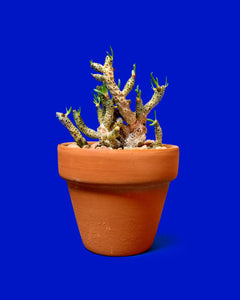 Tylecodon buchholzianus is a dwarf succulent winter-grower known for its bonsai-like growth. It flourishes in the dry season, taking in water from the fog of its coastal environment. Due to regional mining, the plant is subject to habitat loss, though it is not in danger of extinction.
Please note: Every plant will vary in size, color and shape from the one pictured. Plant ships bare root. Soil included according to plant size.
Origin
Native to South Africa and Namibia.
Sun
Tylecodon buchholzianus prefers 4-5 hours of direct sun per day. A window with southern or western exposure is ideal.
Water
Water when the roots are nearly dry during the active winter growing season. During the summer, allow the plant to completely dry out for several weeks.
Tula's Tip
Because it grows in winter and goes dormant in the summer, this plant will want more water when most other succulents want very little. Fertilize: Fertilize once every two weeks during the active growing season. This is best done in very early spring in temperate climates.
Size
Approx. 3-4" tall x 3-4" at the widest point. Every plant will vary in size, color and shape.
Delivery Method
Nationwide shipping, NYC delivery and pickup available. Delivered Bare root