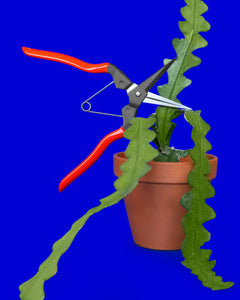 Niwaki, a Japanese garden tool company by way of the UK, brings us their garden snips. Keep these safely in your pocket while making your watering rounds, so you're always prepared for those unplanned pruning moments. Slender blades give you pinpoint accuracy for careful snipping, but should be kept to green growth only. This tool features 2 inch carbon steel blades and a nylon webbing strap to keep snips safely closed.

Size
50mm blades
Material
SK85 Carbon steel
Nylon webbing strap
Tula's Tip
Clean blades after use and dry well prior to storing
Packaging
Ships pre-packaged in Niwaki box
Delivery Method
Nationwide shipping, NYC delivery and pickup available.