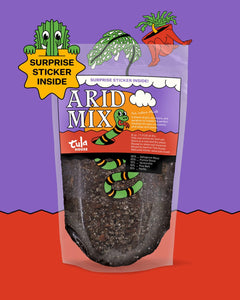 A blend of grit, structure, and aeration to create the perfect medium for your succulents and other arid plants. A superb mix for your next cactus arrangement, small repotting projects, or getting that succulent from the plastic grow pot into a more permanent home. Hand-mixed by Tula House, this is an airy, well-draining combination of Sphagnum Moss, Pumice Stone, Vermiculite, Pine Bark, and Perlite to mimic your cacti and succulents' native desert home.
One surprise sticker included!
Size
8 oz. / 1.3 US qt dry.
Ingredients
30% Pumice Stone, 25% Sphagnum Moss, 15% Vermiculite, 15% Pine Bark, 15% Perlite
Tula's Tip
Store in a cool and dry place. Reseal to retain soil moisture.
Delivery Method
Nationwide shipping, NYC delivery and pickup available.