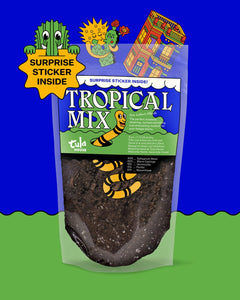 The perfect moisture retaining, nutrient enriching, root stimulating medium for your foliage plants. This bag of soil is hand-mixed by Tula House plant experts to create the ideal environment for your indoor tropical plants. Give your plants a light, moisture-retentive yet well-draining combination of nutritious Sphagnum Moss, Worm Castings, Vermiculite, Perlite, and Mycorrhizae that they will appreciate for years to come.
One surprise sticker included!
Size
8 oz. / 1.3 US qt dry.
Ingredients
40% Sphagnum Moss, 20% Worm Castings, 15% Vermiculite, 15% Perlite, 10% Mycorrhizae
Tula's Tip
Store in a cool and dry place. Reseal to retain soil moisture.
Delivery Method
Nationwide shipping, NYC delivery and pickup available.